Remembering Daniel Zarabozo


Something about him






Daniel Zarabozo Gutiérrez. México (1919-1993).





Between 1937 and 1943, he takes degree courses in solfeggio, choral groups, composition and orchestra conduction at the Conservatorio Nacional de Música (Music National Conservatory).
His teachers were Manuel M. Ponce, Julián Carrillo, Ramón Serratos, Claudio Arrau, Rodolfo Halffter and Luis Saloma, among others. In 1935, at the age of 16, he was pianist for the XEFO and XEWZ. The magazine "Seda y Oro" (Silk and Gold) publishes his first song "Vuelve a mi" (Come Back to Me).
Between 1939 and 1943, he gives piano recitals at the Bellas Artes Palace and he is solfeggio teacher at the Conservatory. He obtains first place in a composition contest.
Between 1943 and 1949, he writes the music for several films and forms his first orchestra to perform at the XEX radio station enlivening, among others, the programs of Jesús Martínez "Palillo". In 1950, his name appears in the Gallery of Honor of the renowned magazine "El Músico" (The Musician). During that decade, he forms a string quintet for the XEW, he conducts the Police Orchestra and gives courses at the Conservatory and at the Escuela Superior de Música (Music Superior School).
In 1964 he records his disc "Las Fuentes de México" (Mexico's Fountains) with his orchestra "La Típica de Chapultepec" (Chapultepec's Typical).
In 1970 he is appointed as Member of the Technical Board of the Conservatory. In 1972 he invents an electronic audiovisual musical board, suitable to aid the teacher in the technical education of music at middle school level.
His work has been performed and recorded by important artists like Marilú, Fernando Fernández, Lawrence Winters, Ma. Cristina Puga, Alfonso González, Rosa María Langler, José Luis Caballero y Jorge Fernández, among others.
In 1962 he is Arranger of the Orquesta Típica de la Ciudad de México (Typical Orchestra of Mexico City) and later he is its Conductor for one decade. During his last years, he did a research about the Mexican music and the history of the Typical Orchestra of Mexico City, work which, unfortunately, he was not able to conclude.
In the decade of the 50's, we find, among his most famous compositions: PLEGARIA (PRAYER) , ME ACORDARE DE TI (I WILL REMEMBER YOU), REALIDAD (REALITY) , SI VUELVES (IF YOU COME BACK), ANOCHE TE SOÑE (LAST NIGHT I DREAMED OF YOU)…

In 1995, the great singer of romantic music, Marilú, with the fine accompaniment and arrangements of Maestro Tito Enríquez, recorded a disc dedicated to the work of Daniel Zarabozo, with the title … "Recordando a DANIEL ZARABOZO con MARILU" (Remembering DANIEL ZARABOZO with MARILU).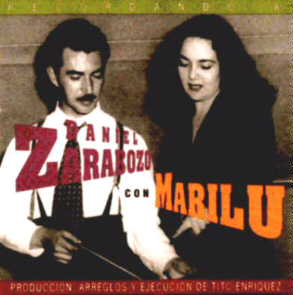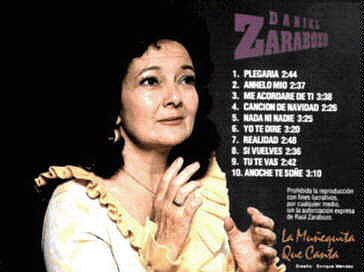 Click on the compact to download the song. Once downloaded, change to a page without background music to listen to the song in RealAudio (i.e.: www.yahoo.com).
"Me acordaré de ti" (Daniel Zarabozo)... Singer: Marilu. Musical arrengements: Tito Enríquez
© 1996
Raúl Zarabozo




Reserved copyrights on the music contained in this page:
© 1994
Raúl Zarabozo E. de R

Background music of this page:
"Acuérdate de mi"... Daniel Zarabozo2>


Musical arrangements:

Tito Enríquez

Original Design of the background:
"Rebecca Mack"...: remack@vt.edu3>